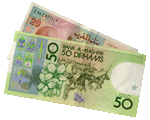 Jesus Centered Ministries has been fortunate to work in the country of Romania since 1997.  In this time God has kept his hand on the movement of Christ in this nation. Our ministry has been able to participate and lead in a great deal of work and growth for His kingdom in the city of Satu Mare and surrounding areas.  In 2012 we helped Mihai and Dana with the start of the House of Hope Orphanage and they now have 25 children in these homes. 

Another way that our ministry has been used in Romania is in the building of churches.  We have been able to help raise money to build five churches so far. The first church which is located in Popesti, Romania, was dedicated on May 17, 1998. This church was built in eight days after the foundation was down.  The second church was complete in a gypsy village located in Pusta Valley.  It has been exciting to see how God has brought different churches and individuals together in order to fund the construction of these churches.  The third church is located in Satu Mare and is complete. It holds over 600 worshippers and was dedicated November, 2003.  Then we helped with two other churches in the Satu Mare area.  With God's direction and lead, we may see other churches be built in the future.

Another major passion that I have in Romania is that of the pastors that live there.  These national pastors are instrumental in God's work.  Our ministry is currently helping to support two pastors from Romania financially. These pastors are doing important work for the family of believers, but it is most important to us that their families remain strong and maintain a solid, holy foundation.

In addition to supporting these people, our ministry has continued to take groups to Romania for evangelistic outreach and working in the orphanages.  These groups, much like similar groups that go to Nicaragua, are able to go into villages and reach out to the people there through person to person street witnessing, preaching, concerts, and  crusades/revivals. The people that go on these trips always seem to catch a glimpse of what God can do in their lives.  That fact may be the best thing about taking groups to this  foreign land. If it changes the lives of those who go, who knows how many people they can reach for Christ?


Suppling food 

for the state orphanage

Bethel Baptist Church in Satu Mare dedication  Nov 2003 

Part of the mission team built playground for the House of Hope

Mark baptizing in  

Betel Baptist Church

The inside of the sanctuary 

of Betel Baptist Church in Satu Mare

Michael, Dana, Julia, MJ, Damaris

Pastor and family of Betel in Satu Mare

P.O. Box 7111  Knoxville, TN  37921

October 2012 Mission Group

October 2013 Mission Group

Pastor Dan & Lydia Micula & family

October 2013 Budapest sightseeing